Further growth for Harrogate Christmas & Gift
The doors of Harrogate Christmas & Gift 2016 closed on Wednesday 13th January 2016 with another hugely successful show for all involved. Visitor numbers were up by eight percent this year with exhibitors and visitors reporting brisk business.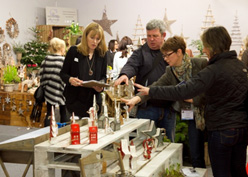 Chris Krall, managing director IEP Wholesale imports comments: "We have had our best show ever and have made contact with buyers who we have tried to get in touch with for many years. We've been exhibiting at Harrogate since 2008 with our floral and home and gift ware but this year launched a new Christmas collection and the response has been overwhelming. I can't think of a better show to have launched this range – no other show attracts the quantity of quality buyers like Harrogate and we will definitely be returning next year."
Simon Anslow, show organiser, adds: "Christmas & Gift has once again exceeded all expectations with visitor numbers up for the fifth year running and the potential for further growth highly likely. This is great news for the industry as a whole, indicating that the festive product and gift sector is more buoyant than ever. During the show we had numerous enquiries from new companies wanting to participate next year and potentially we may even have to expand into further halls in 2017."
Next year's show is from 8th to 11th January 2017 and exhibitor bookings will open in early March 2016.